About a week or so ago somebody managed to hack into this website and they were able to claim it in Google webmaster tools. They used the change of address tool to move my rankings to a payday loans website:

http://paydayloans-money.co.uk
And for a couple of days the payday loans site stole some of my rankings. As soon as I realised what had happened I cancelled the change of address, changed all of my passwords and updated my WordPress (my designer suspected that was how they got in).
Yesterday I was checking my stats and I noticed that I was getting hits on the keyword payday loans, I checked Google and saw I was ranking in the 11th position on Google for the term: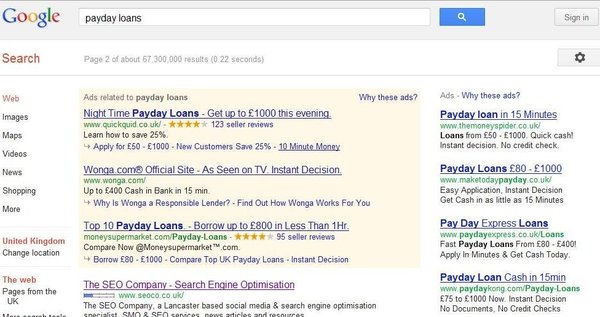 Over the past few days I have had 98 visitors from people searching for payday loans.
I was just checking my links with Bing webmaster tools today and I found hidden links pointing to this site. Whoever hacked this site has built hidden links to get it ranking for payday loans such as the one on this site in the code:
So there you have it, make sure your wordpress is up to date and keep an eye out for unusual activity – negative SEO does happen.