Just done a search on Google and this site has received the Google sitelinks that I have been longing for (yes I am a huge nerd). It looks to have been a big update, the biggest ever in fact and tons of new sites have got them: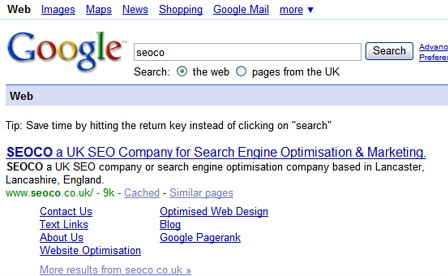 Site architecture and age seems to play an important roll in getting sitelinks, very few sites that are less then 6-8 months old have got them.
Here are a few links to help you understand sitelinks:
What are Google Sitelinks – Search Engine Land
Explaining Google Sitelinks – Problogger
Google Sitelinks and Brand Domination – SEOmoz
Congratulations to everybody who has got the sitelinks.
Update: The update is not currently showing up on Google US, so you will have to visit Google UK to see the changes.