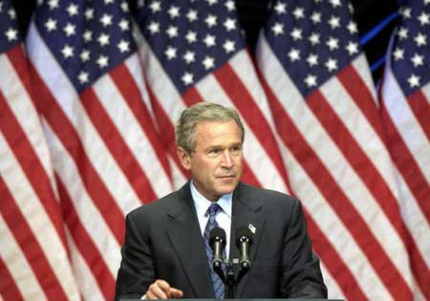 I don't know if this is new one or not but I just stumbled across George Bush ranking on Google for a new phrase 'who is a failure'.
Up until about a year or so ago his page ranked on Google for the phrase 'miserable failure' because a group of bloggers Google bombed it. Tony Blair's web page was also hit and made to rank for the phrase liar.
Both of these Google bombs were fixed by Google: George Bush's web page no longer ranks for miserable failure and Tony Blair's page no longer ranks for liar.
Whether someone has started a new Google bomb or not I do not know, check it out by clicking on the link below:
Search result on Google for 'Who is a Failure'
Here are a few links to help you understand Google Bombs:
Google Bomb Info. – Wikipedia
Google Bomb / Google Bombing – Search Engine Dictionary
Google Bombing – Simply Clicks
Update: Danny has posted about this over at Search Engine Land and the page has been ranking for this phrase for while. He believes that this has not been caused by a Google bomb and he does not think that the "Google link bomb fix" will change anything.