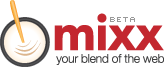 I think it is about 6 weeks since the Mixx social media site was 1st launched. I have been a member for just over 2 and I think it is really cool. I believe that the site has the potential to be one of if not the best.
Here are the top 5 things I like about Mixx:
1/ You can see who has voted against your submissions.
2/ The site is lightning fast and very easy to use (once you get the hang of it).
3/ Mixx users are really friendly – All of the comments I have seen so far are nice.
4/ There is plenty of fun content submitted (guaranteed laughs).
5/ The site is well optimised (no duplicate content), I can see the submissions ranking high in the search engines in the future.
Here are 5 things that I think could make Mixx better:
1/ More submissions on the standard homepage – 10 stories, 10 photos and 10 videos or just a mix up (no pun intended) of the top 30 submissions all together.
2/ A way for me to vote on the comments.
3/ More categories like real estate, marketing, search engine news to name a few.
4/ More information on the standard homepage – I would like to see who submitted and the description of every submission. Titles for the pictures are definitely needed.
5/ A way for me to add a link to my website in my profile.
I have already had quite a lot of success with getting my submissions voted on, this may be partly due to the fact that many of my Digg friends have joined the site, but I am sure that it would be fairly easy for anyone. Get yourself on there, register, upload an avatar, sort out your profile, start adding friends and checking out their stories. I guarantee you that they will do the same for you.
My profile – Dave UK
Visit – Mixx