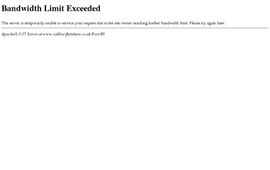 Just woke up to find that another one of my clients sites has gone down due to them reaching their monthly bandwidth limit. This is the 2nd client this has happened to in two weeks and I am feeling pretty pleased with myself. You know you are doing your job properly when your clients are having to get better hosting packages.
The 1st time it happened it was like an instant thing, the clients article was published and within less then 45 minutes it hit the homepage of Reddit and the site was gone. The clients web hosting company has been giving him stick ever since, "You better just do a few more directory submissions for now" he said to me, a dedicated server is in the post.
This time it was more gradual, the article didn't go to the homepage of Digg or Reddit, but it did go popular on StumbleUpon, Propeller and some other social media websites. It took from Thursday when the article first got published to this morning for the site to go down. I will give him a call in the next hour or so to let him know. I am sure he will be O.K. with it, the big picture is what matters the most.